World Elder Abuse Awareness Day 15 June 2020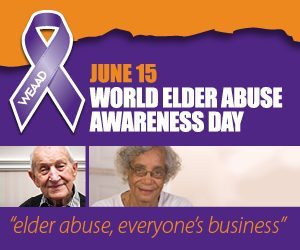 COTA NT marked World Elder Abuse Awareness Day 15 June 2020 by issuing the joint statement below in conjunction with NT service providers, Relationships Australia, Darwin Community Legal Services and Catholic Care NT in Alice Springs and shared posts to social media pages. COTA NT staff wore purple to help raise awareness of the day and the issue of elder abuse (as pictured).
World Elder Abuse Awareness Day (15 June) highlights the important issue of abuse suffered by older people in our community, which unfortunately happens too frequently and is not often spoken about openly or reported enough. The day also serves as a reminder to all Territorians that support services are available to help prevent or respond to elder abuse in the Northern Territory.
Elder abuse can take many different forms, and someone the older person trusts or depends on such as a family member, a friend or a carer is often responsible. The abuse of older people is not always physical; it can also be financial, psychological or sexual, and can include mistreatment or neglect.  No cultural group or socio-economic group is immune to this abuse.
In a critical situation (e.g. where there is a serious risk to an older person's life), it is vital to seek help from the appropriate emergency service (e.g. Police or Ambulance) by phoning 000.
Relationships Australia's Senior Relationship Services supports older people to feel respected and safe. It offers early intervention support and counselling and facilitates family meetings for seniors and their families.
Darwin Community Legal Service operates the Elder Abuse Information Line, which assists seniors and their families with information and referrals to a range of support services.
Catholic Care NT in Alice Springs is an Aged Care Advocate that support older people through information about aged care services, rights and responsibilities.
COTA NT is the voice of seniors in the Northern Territory and advocates for seniors by promoting seniors' interests, views and well-being. COTA NT works closely with Relationships Australia, Catholic Care, Darwin Community Legal Service and makes referrals when seniors have a concern about abuse.
Contact Details
For more information about World Elder Abuse Awareness Day, visit our web page. It also includes ideas and resources for ways in which you can help mark and promote awareness of the day and issue.