National Volunteer Week 2019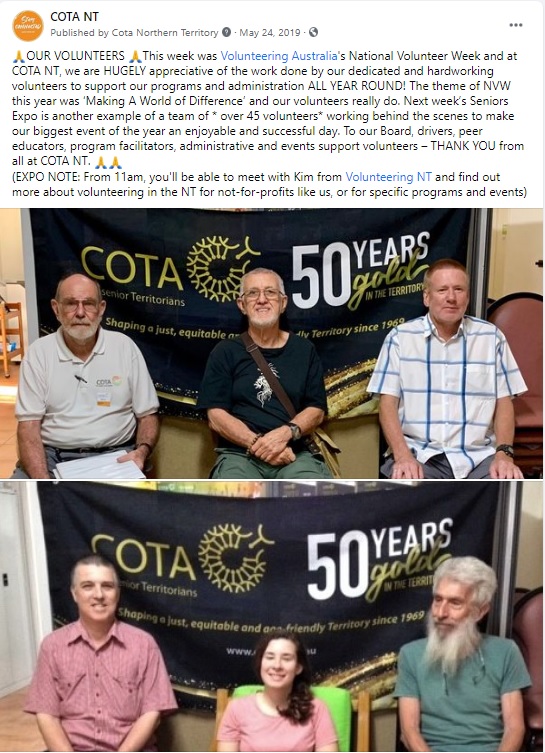 National Volunteer Week (NVW) ran from 19-25 May 2019 and once again acknowledged and celebrated the generous contribution of our nation's volunteers. The theme of National Volunteer Week 2019 was 'Making a World of Difference'.
To mark National Volunteer Week 2019 we helped to raise awareness of the importance of volunteering throughout the Northern Territory and Australia:
COTA NT Facebook pages
Seniors Expo 2019 – at which Volunteering NT attended
and in our Annual Report for the year.
COTA NT Volunteers
During 2019, our volunteers made an amazing world of difference to the work we did. Not only did our team support the ongoing MASP program for another year, but more than 45 volunteers helped us to create the biggest and most golden Seniors Expo yet.
Our volunteers this year have been men and women aged from 15 years to 90 years old, they are from English and non-English speaking backgrounds, they have different life experiences and education, socio-economic backgrounds, religious and political beliefs. They are connected by COTA NT and their willingness to give up their time, energies and effort to help others. 
We cannot thank them enough.
And once again, we thank our Board Members, our often unsung heroes – but our Board Members are all unpaid volunteers, who also give up their time and expertise to assist with the organisation's governance, strategic direction and hands-on ongoing support of event, programs and projects.
We humbly acknowledge their work once again and thank all of our volunteers for their generosity of time and effort.
Pictured on the right: Long-time volunteers, Mick Sheridan, Peter Hazelman, Ian 'Blue' Willis, Eliza Barreto and Piero Paltieri.
Pictured on the left (top): Fran Smith and Eliza Barreto at Seniors Expo 2019.
Pictured on the left (bottom): COTA NT Board Member and Treasurer, Mike Walker with CEO, Sue Shearer.