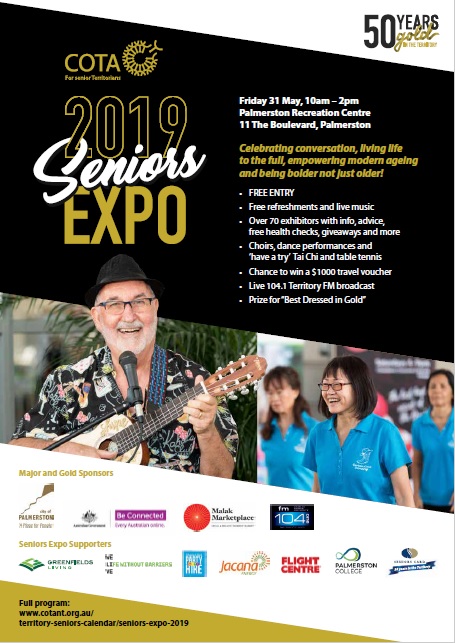 COTA NT's Seniors EXPO 2019
"Be Bolder Not Just Older" – the GOLD, BOLD YEAR!
Date/ Time: Friday 31 May, 10.00am – 2.00pm (FREE ENTRY*) 
Venue: Palmerston Recreation Centre, 11 The Boulevard, Palmerston
Seniors EXPO 2019 was about conversations, connection, community and celebration; Territory seniors, their lifestyle, interests and talents; and  the services and support for seniors from community, business and government. It was about COTA celebrating being 50 years GOLD in the Territory.  
Our Patron, Her Honour the Administrator, the Honourable Vicki O'Halloran formally opened the event which included a free morning tea, served by volunteer students from Palmerston College, and a community barbecue by Bunnings; live music by Rocking Bill Roy and the Seniors Sunshine Band, over 85 exhibitors and 2 000 attendees and the contribution of a wonderful team of volunteers.
Exhibitors
Exhibitors at the Seniors Expo 2019 included:
Aged Care Unit
AIR Darwin (Association of Independent Retirees)
Anglicare NT
Amity Community Services
Arthritis and Osteoporosis NT
Asthma Foundation NT
AustralianSuper
Be Connected
Beryl Murphy (Jewellery)
Calvary Community Care
Carers NT
Caryota Book Exchange
Chiropractic Life NT
City of Darwin
City of Palmerston
COTA NT including NT Seniors Card
COTA NT Coomalie Branch
Craft and Quilting Down the Track
Darwin Community Legal Service
Darwin Occupational Services
Darwin Patchworkers & Quilters
Darwin Table Tennis Association
DAS Electrical
Dementia Australia
Department of Health – Cancer Screening Services, BreastScreenNT

Digital Inclusions Northern Australia
Equip4Living
Event Cinemas
Flight Centre
Fraud Risk Management – The Western Union Company (Sydney)
Genealogical Society of the Northern Territory Inc (Family History Place)
Golden Glow Nursing
Greenfields Living
HELLOWORLD TRAVEL DARWIN
Humpty Doo Fibrecraft Guild
Jacana Energy
Knit and Knatter
Landscapes in Watercolour by Pamela Watson
Life Without Barriers
Malak Marketplace
NDIS – APM (Partner of NDIS)
Niagara Therapy
Nightcliff Bendigo Bank
Northern Territory Consumer Affairs
NT Concession and Recognition Scheme
NT Legal Aid Commission
NT Neighbourhood Watch
Office of the Ombudsman
Office of the Information Commissioner 

Anti-Discrimination Commission
Health and Community Services Complaints Commission
Palmerston And Litchfield Seniors Association Inc. (PLSA) & 50+ Club
Parkinson's NT Support Group
Probus Clubs of Darwin
Prosper – Darwin Prostate Cancer Support Group
Red Hat Society
Regis Aged Care
Relationships Australia Northern Territory
Royal Life Saving NT
Sing Australia
Southern Cross Care SA & NT
Team Health
Territory FM
Territory Funerals
Telstra Licensed Store Darwin
Territory Labor
The Ionian Club of Darwin
Tunstall Healthcare
Wendy Kingshott Remedial Massage
Wicked NRG
Volunteering NT
You Are Important Australia Ltd
1 Territory Party
Malak Marketplace Community Stage program
10.30am – Welcome and housekeeping – Malak Marketplace Chair, Lina Paselli
10.30am – 10.50am Beverley McShanag
10.50am – 11.10am Top End Mustangs Inc.
11.10am – 11.30am Grey Panthers
11.30am – 11.50am Seated Aerobics (for everyone in the audience!)
11.50am – 12.00pm Break 
12.00pm – 12.20pm Palmerston Senior Songsters
12.20pm – 12.40pm Darwin Line Dancing
12.40pm – 1.00pm Sing Australia
1.00pm – 1.20pm NuLiNe Dance (including 'join-in' oppornunity)
1.20pm – 1.50pm Tai Chi for Beginners (warm-up, beginners 1 & 2, cool down – all welcome)
2.00pm – Farewell
Sponsors

Supporters

In-kind support from the City of Palmerston
Be Connected
In-kind support from Malak Marketplace
In-kind support from Territory FM 

Jacana Energy
Flight Centre

Greenfields Living
Life Without Barriers
In-kind support from Palmerston College

Bunnings
Rocking Bill Roy and the Seniors Sunshine Band
St. John Ambulance for provision of first aid
The Hon Eva Lawler MLA, Member for Drysdale for support of morning tea
The Hon Lauren Moss MLA, Member for Casuarina for donation of the 'Best Dressed in Gold' prize
Mr Tony Sievers MLA, Member for Brennan for support of morning tea
Party Hire
Page updated: 5 February 2021