Promoting seniors' news and events
7 May 2019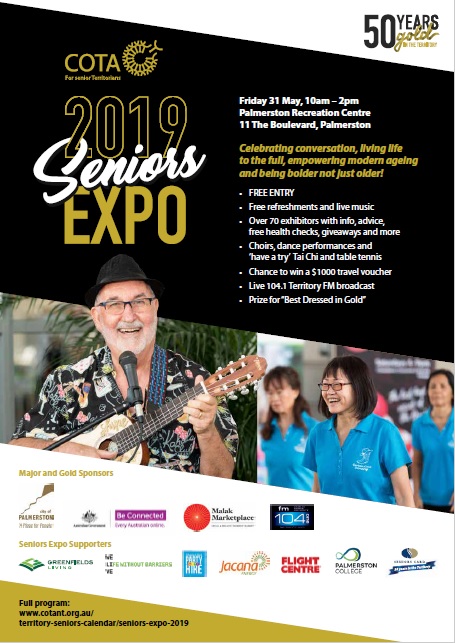 By the time you read this COTA NT will be in the NT Budget Lock Down. For those who haven't experienced this, the private sector, not for profits and other organisations are invited to the lock down to be the first to hear the Territory Budget for 2019/20. We know it will be tough, but hopefully fair.
And talking of budgets – the Federal election date is coming very quickly. Please don't forget to vote and have your voice heard. COTA NT has been lobbying the current Federal Government and Opposition regarding My Aged Care issues, the Pharmaceutical Benefits Scheme and various medicines that should be on the free list, other issues pertaining to health, especially oral plus other issues around ageism, isolation and one big one, housing.
Sharing news on Facebook
As you know, our fifth Seniors Expo is coming up on 31 May and we will be posting on our Facebook page more about what you can expect on the day. We also use our page to let people know about events, stories, issues and initiatives relevant to Territory seniors. 
Ways to share your news and events
If you want to share details of your event with us, send a web page link or better still a Facebook event listing to us, and we will share it whenever possible.
You can also list events for seniors on the online Territory Seniors Calendar which is hosted on our website (www.cotant.org.au). This calendar is free to use.
Consider using other free channels to promote your event more widely, such as the online calendars on City of Darwin and City of Palmerston's websites
Territory radio stations' online community noticeboards (e.g. Territory FM Com-Web, Mix 104.9)
Off the Leash – community newspaper, including guide to what's on the Top End
Enjoy Darwin – Travel, places, things to do, community news and more.
A media release sent to the editors of local newspapers and newsletters can also help you get the coverage you want.
~ Sue Shearer and Stephanie Kendall, COTA NT
Tags: Seniors Voice